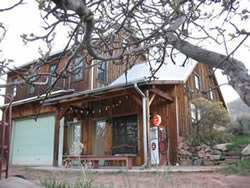 Chambers Consulting, Inc. in Morrison, CO is a locally-owned firm of professional land surveyors (PLS) registered with the State of Colorado (registration no. 16099). We perform land title surveys, boundary surveys, and other property surveys in the Front Range and surrounding areas. With our extensive surveying experience, we are able to provide detailed and accurate information.
Our History
Beginning in 1970, Lawrence G. (Gus) Chambers has pursued a full-time career in land surveying. He began surveying at age 10 with his father, a PE-LS in Carson City, Nevada. He founded Chambers Consulting in July of 1980, as a sole proprietorship.
In 1984 Chambers Consulting gained a new business partner and AICP Certified Planner, Jamee Chambers, who became the majority owner when the business incorporated on October 31, 1988.
Together, Gus and Jamee have provided professional surveying and planning services across the State of Colorado, and have become experts in the Front Range and mountain communities.
Consult Us for Surveying & Planning Needs
Let our experience and expertise work for you. Contact us today at
303-697-0650. We will provide detailed information on the land surveying services we offer. We are willing to prepare a proposal for you at no initial cost.